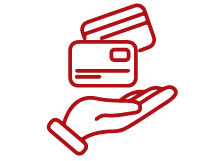 The Rewards Cards are part of a loyalty programme designed to reward you as a BRIGHTS customer.
In addition to receiving instant discounts on selected items paid for in cash,
you will also accumulate points every time you swipe your card.
Want to enjoy the benefits? Apply for your free Rewards Card below.
Cards can be collected within 48 hours of application.
Your card must be presented to the cashier before making your purchase. Your target and accumulated loyalty points will be printed at the bottom of your till docket.
When you have accumulated 2500 loyalty points valued at R250, you can redeem them at the checkouts when making your next purchase. Positive identification will be required.
Accumulated loyalty points expire after 2 years if they are not redeemed. Your discount level will not change when you redeem your loyalty points or if your points expire.
The BRIGHTS Discount Card 1st issue is free. Multiple cards are issued at a replacement cost. Lost or damaged cards are also issued at a replacement cost. Positive identification is always required.
The BRIGHTS Discount Card remains the property of BRIGHTS Hardware (Pty) Ltd who reserves the right to amend the terms & conditions, withdraw the card at any time or terminate the scheme without notice.
Discounts are applicable to any cash, cheque, credit card and American Express transactions.
Discounts are not applicable to Cape Consumer, Diners Club and RCS transactions but do accumulate loyalty points. Please note that these specific card payments are only available at our Boston, Brackengate, Blackheath & Mitchells Plain branches.
Certain products and current promotional products are not subject to discounts, but if any of these items are purchased, they do qualify to accumulate loyalty points.
Pensioners' and Birthday Discount
1. 10% birthday discount is only valid on one purchase during the cardholder's birthday month.
2. No discount will be given on specials, special orders, cement, and trusses.
3. Customers must have the discount card present and show the birthday SMS message to qualify.
4. Birthday discounts may not be used in conjunction with any other cardholder discount promotion.