WATERPROOFING
Showing 1–28 of 50 results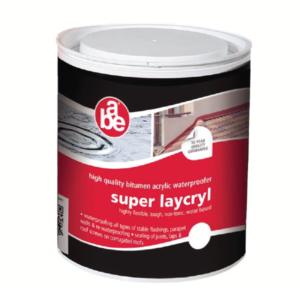 R

179.95
 All types of stable flashing.
 Parapet walls.
 Flat roofs waterproofing.
 Re-waterproofing over existing waterproofing.
 Sealing of joints, laps and roofing screws on corrugated roofs.
 The system is for non-traffic-able roofs.
 super laycryl is an all-in-one system.
There is no need for separate primers (apart from metal surfaces) or top coats.
It has excellent weathering properties, adhesion and is tough, flexible and non-toxic.
It comes in a wide range of colours.
 10-year conditional guarantee.
Select options