SILICONE SEALERS
Showing 1–28 of 41 results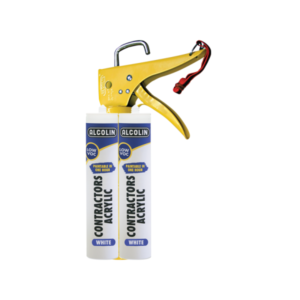 R

199.95
Alcolin Yellow Caulking Gun is a powder coated caulking gun with spout and nozzle cutter, finger guard and non slip ratchet.
Size
Use with standard cartridges
Uses / Applications
Built in spout cutter
Finger guard on trigger
Non-slip ratchet
Spring release plunger
Handy spout cleaner
Ladder hook for easy storage
ALCOLIN ACRYLIC SEALANT
Ensure easy application when using sealants and adhesives.Acrylic sealant is  a water based general-purpose, flexible sealant that is used for caulking, grouting, jointing and embedding in building construction. It is easy to apply and compatible with most materials used in construction e.g. concrete, wood, brick, natural and artificial stone, glass, metal and sanitary-ware.
Available in brilliant white - Size : 280 ml
Uses / Applications
Caulking ,Grouting,Jointing and Embedding cornices
Sealing between door / window frames and walls
Holding down roof sheets
Over paintable in one hour
Highly flexible and crack resistant
Good adhesion to a variety of substrates
Provides a smooth finish
Non slump - Water based, low odour and non toxic
Suitable for interior and exterior applications
Resistant to UV radiation, moisture and extreme temperature fluctuation
Add to cart