BRIGHTS celebrating 45 years – we couldn't have done it without you!
Founded in 1971, BRIGHTS Hardware has established a proud history over the last 45 years and we couldn't have done it without YOU, our loyal customers, who have supported us since the first day.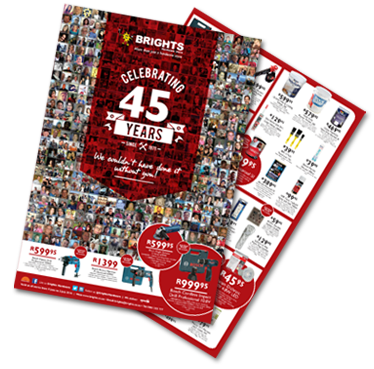 Celebrate with us on 24 & 25 June
To celebrate 45 years of being 'more than just a hardware store', BRIGHTS is offering customers BIG birthday savings on a wide range of products. Simply click on the tabloid thumbnail to view our deals.
And if that's not reason enough to join us in store, we're also giving BRIGHTS Discount Cardholders an extra 10% off* on 24 & 25 June 2016 at any of our stores. Not yet a BRIGHTS cardholder? Apply now!
You certainly don't want to miss out on the big celebration, so bring the family and make a day of it.
But wait, there's more…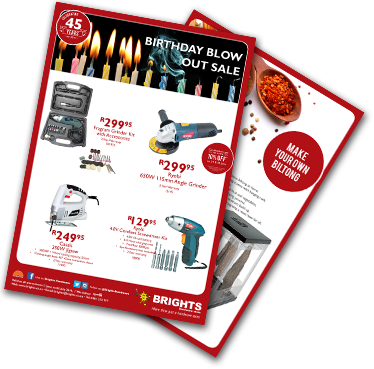 Seeing as it is our 45th birthday, we have put together yet another selection of savings to keep you in a celebratory mood! Click on the thumbnail or the link below to view these extra specials – available until 2 July 2016 or while stocks last at all BRIGHTS stores throughout the Western Cape.
More about our History
BRIGHTS was founded in 1971 by Mr. and Mrs. Luis as a General Dealer specialising in electrical contracting and repairs. Through the years, the business has grown into a multi-faceted outlet for all one's building material and hardware needs.
Since opening the first warehouse in Stikland, Cape Town in 1995, BRIGHTS has expanded considerably with the first franchisee store in Plattekloof in 2006 and a store in Blackheath in 2009. In this same year, Northern Trusses was incorporated into the Brights Group, and renamed to Brights Trusses.
Further expansion continued with the opening of a store in Uitzicht, Durbanville at the end of 2011, one in Langebaan in April 2012, and a big store in Montague Park at the end of 2013.
Today, BRIGHTS is owned and operated by the Luis children, their spouses and BRIGHTS staff members who are shareholders. Mrs. Luis, still part of the business as Founding Director, has devoted her time to the training and upliftment of BRIGHTS staff.
* Discount not applicable to trusses, specials, specials orders or cement, and may not be combined with any other discount.