Brights Uitzicht donates to local Neighbourhood Watch
On Wednesday, 23 September 2015, Brights Uitzicht donated R10,000 to the Uitzicht Neighbourhood Watch (UNHW) – as part of their continued focus on supporting the community and being "more than just a hardware store."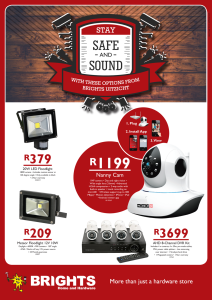 The UHHW is a community driven initiative that ensures effective and quick response to criminal activity, while empowering members of the community with information via well-developed communication channels.
This R10,000 donation will be used specifically for the UNHW's Security Camera initiative, which will see the installation of number plate recognition cameras in various strategic locations throughout Uitzicht, once enough money has been raised.
For more info on UNHW's community safety activities or to get involved, please visit www.unhw.co.za
Photo: Mr Richard Nunes, Managing Director of Brights Uitzicht, and his team hand over the R10,000 cheque to Mr Henry Kasner, chairman of the Uitzicht Neighbourhood Watch.
Keep your family safe and sound with great deals – available at Brights Uitzicht until 17 October 2015 or while stocks last.